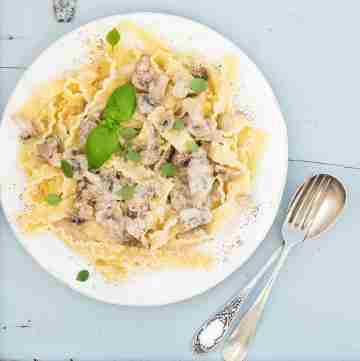 Mafaldine Pasta is a lovely dish to try here. It features fava beans, lamb meatballs, garlic and parmesan cream, fava puree, caramelized leeks, and lemon zest. 
Are you drooling yet? We sure are! Here's an idea so you can recreate this dish at home. Grab fava beans, garlic, parmesan, heavy cream, butter, leeks, a lemon, and our Duck and Pork Sausage. While the duck and pork sausage is obviously not the same meat as lamb, it will still provide a delicious taste and richness to the dish.
Create the garlic and parmesan cream by combing heavy cream, garlic, parmesan, and salt/pepper in a saucepan. Simmer until the cream is thick. On the side, you'll want to create fava puree by blending fava beans and seasonings – add a few splashes of beef broth or water in until the desired texture is reached.
Slice your leeks and brown them in a pan with butter – ensuring to consistently stir them. Add in your duck and pork sausage (sliced) and cook through. Add the fava beans in (ensuring they are fresh or cooked) and cook until brown.
You're ready to plate – assemble the cream first, then the sausage, leeks, and fava beans, drizzle the puree on top, and add lemon zest. Enjoy!