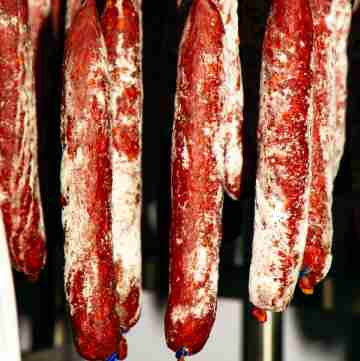 "What exactly is curing? Is curing different from fermenting?"

Curing is the process of preserving meat by adding salt, sugar, and/or nitrates  to fermentation, drying, or smoking. Bacteria cannot grow if there is insufficient available water for them to live, or relatively inhospitable levels of sodium. The use of a curing agent prevents the growth of bacteria most notably in salamis, Clostridium botulinum.  C. botulinum produces the toxin resulting in botulism, a very serious form of food poisoning. 
There is some academic dispute as to the origin of the name "botulinum" and "botulism." Both are definitely derived from the Latin, "botulus," meaning sausage. Most sources indicate this is a reference to an outbreak of "sausage poisoning" in Germany centered around Württemberg at the end of the 18th century later identified as what we now call botulism. However, recent scholars claim botulism was named for the shape of the bacterium, which happens to be sausage-shaped.
The history of using curing agents to preserve meat is at the very least millenia old. Written records indicate curing began between 850 and 350 BCE, though records of cave paintings in Sicily put the start of curing meat as far back as 40,000 BCE, and likely used a combination of salt from evaporated sea water and ash from plants to cure meat and aid in the drying process.
In contrast to curing, fermentation is the introduction of a safe bacteria used to lower the pH of the meat (we use a lactobacillus similar to the kind which makes cheese or yogurt, though cultivated to ferment in meat instead of milk.) While lowering the pH of meat can prevent C. botulinum, it would make the meat too acidic and ruin the flavor and texture. But by lowering the pH a little bit we can prevent the growth of Salmonellae (responsible for salmonella poisoning) and Staphylococcus aureus (which results in staph infections.)